Why Haven't Loan Officers Been Told These Facts?
Thinking about thinking. Psych yourself up – Who are you, and how will you be remembered?
Stakeholders have about as much sympathy for mortgage brokers as they do for a drunken sports fan trespassing on the field of play. When cats and birds stray onto the field, it's fun, and everyone chuckles. Not so when an irritating drunk screws up the gameplay, especially when money is on the game.
The way others see us is important to success. However, the way we see ourselves is of far greater consequence.
Mike Curtis was a longtime Baltimore Colts linebacker and fan-favorite known for talented and aggressive play, which earned him the nickname "Mad Dog." Though overlooked by the Hall of Fame, he was an unforgettable individual and player. Off the field, he was as gentle a person as you could know.
Mike Curtis became my hero when he saved my team, the Baltimore Colts, from defeat in Super Bowl V. In the fourth quarter of a rather sloppy game, Curtis intercepted a Craig Morton pass to set up a game-winning field goal.
That interception won me a wager against my Texan best friend and his family of hardcore Cowboys fans. My buddy's six sisters were jawing at me on every down during that game. To top it off, his fighter pilot/lawyer Dad relentlessly provided witty digs and quips about my team at the game's tensest moments.
That was a sweet win. It takes a special kind of something to silence a room full of hardcore Cowboy fans.
Following the Super Bowl, Curtis won perhaps even more cheers and fans during a regular-season game. It happened between plays in the fourth quarter of a game between the Colts and Miami Dolphins at Baltimore's Memorial Stadium on December 11, 1971. A drunken fan pranced onto the playing field and tried to run off with the game ball. When Curtis saw what was happening, he broke from the huddle and leveled the fan with a solid hit, driving him to the turf.
The stadium came alive, and the fans roared. I almost enjoyed the drunken fan hit as much as the Super Bowl interception. Asked about it after the game, Curtis shrugged, "He wasn't supposed to be on the field."
Take a look at the goofy grin on the trespasser's face. A good time or a life abused, who can say? The dope fumbled the stolen football too. I'll bet that guy was sore and regretful in the morning.
If you were in the photo that captured the moment, would you be Curtis, the drunken fan, Bubba Smith, or the cheering crowd? Check out Bubba Smith's expression in the picture below. Bubba was a star too. How does your self-image relate to your performance on the field of play? Give it some thought.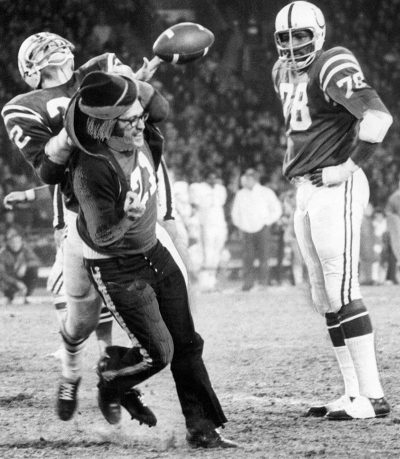 ---
Behind the Scenes, opportunities to serve the underserved
From the FHLMC
Two years of significant home price appreciation has resulted in national concerns about housing affordability. However, in new research by Freddie Mac, 6-in-10 individuals say they would consider purchasing the type of dwelling that has become the largest source of unsubsidized affordable housing in the United States: manufactured housing.
Construction costs for manufactured homes are typically lower, which may have contributed to their growing popularity in recent years. According to recent U.S. Census data, 6.2% of the population currently live in manufactured homes.
A recent Freddie Mac housing survey shows that general familiarity with manufactured housing is relatively high, with 47% of respondents saying they are somewhat or very familiar with manufactured housing. In the study, 62% of people say they are likely to consider purchasing a manufactured home in the future.
The overall perception of manufactured homes is positive, according to the survey results.
All told, 77% of people who are aware of manufactured homes expressed a positive sentiment toward these homes, describing them as "new," "efficient," "affordable," and "easy." Most agree that there are tangible benefits to manufactured homes, including the following:
Allow a wide range of customization.
Affordable without compromising on quality.
Ecofriendly and energy efficient.
A good investment.
Who Is Likely to Consider Buying a Manufactured Home?
Although 62% of people say they are likely to consider purchasing a manufactured home in the future, certain populations are more likely than others to buy them. The survey results were analyzed by generation, race, urbanicity, and household income to take a closer look at trends in the likelihood of purchasing a manufactured home.
Household income did not affect respondents' reported likelihood to purchase, but the survey data shows that those with an annual income of less than $50,000 have a significantly more positive perception of manufactured homes than the total sample or other income groups.
Are entry-level buyers ready for smaller homes? Between the cost of real estate, property taxes, and household maintenance costs, it may be back to the future.
---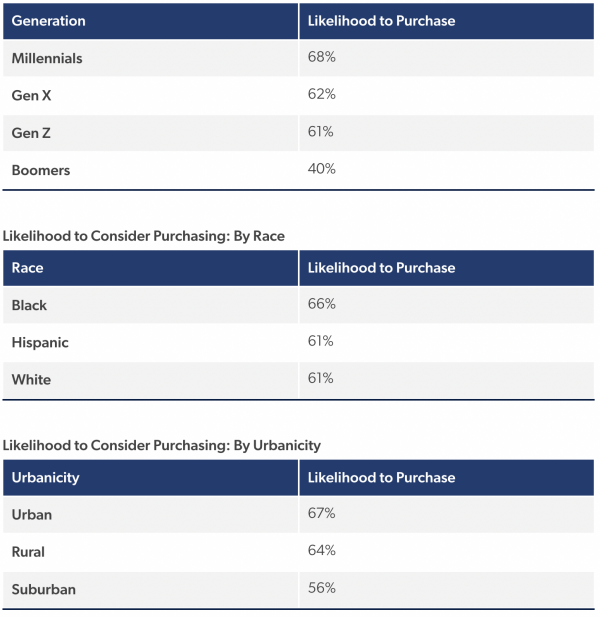 IT'S SUMMERTIME, CAN YOU AFFORD TO STOP LEARNING?
Time to up your game with the Tip of the Week
Technology
Efficiency is critical to mortgage success. Do yourself a favor and make it a point to learn about leveraging the latest fintech. The FHLMC offers simple tutorials to bring you up to speed on technologies that enable powerful workflows that empower loan officers to close more loans with greater ease.
The use of automated asset verification is picking up steam. Tight margins accelerate efficiency. Get on board!
https://sf.freddiemac.com/tools-learning/loan-advisor/our-solutions/aim-asset-income-modeler?_ga=2.76419477.167850323.1657033545-1688904514.1656786957
https://www.fanniemae.com/positive-rent-payments/voa?utm_campaign=pte-sf-posrentlenders-202109&utm_source=google-ad&utm_medium=cpc&utm_content=awa-sea-noa-voarct-p-n-len-Positive_Rent_Payment%7CDMP%7Clen%7CSEM%7CUS%7CVOA+-+Brand&utm_term=fannie%20mae%20asset%20verification&gclid=CjwKCAjwwo-WBhAMEiwAV4dybXMGFUtu8bphJKthM4FkvCogZlwZJt3EzEfHGC83bvk16VuXHwmkbxoCtW4QAvD_BwE&gclsrc=aw.ds
---
2022 CE – Sneak Preview
2022 CE has begun!
LoanOfficerSchool.com is excited to provide a sneak peek into our 2022 CE offering. The LOSJ series on subprime financing and servicing underserved markets borrows heavily from the 2022 CE 2 Hour nontraditional mortgage product market segment.
We will cover key knowledge points necessary to implement a subprime program from soup to nuts. In addition, the course covers subprime underwriting requirements, how to prove that the subprime loan is in the consumer's best interest, best efforts requirements, steering safe harbor, residual income calculation, recognizing loan risk, and the competencies necessary to shop your loan and get your customer the best price.
Dodd-Frank and the implementation of Regulation Z have had some negative and unintended consequences for American consumers. Coupled with the Fed's monetary policies, runaway housing costs, and the management of the GSEs, we have an ugly housing storm brewing. As a result, the growing subprime industry may be well-situated to address the needs of many consumers falling into the remnants of the 2008 housing cracks.