Why Haven't Loan Officers Been Told These Facts?
Try your hand at a few obscure but essential laws; the answers next week.
Which of the following transactions are not subject to the Truth In Lending Act?
Owner-occupied four-unit, closed-end, cash-out second, a High-Cost loan funded by a subprime lender.
One-unit purchase, a vacation home funded by a national mortgage company.
Owner-occupied two-unit purchase funded by a mortgage company.
Owner-occupied three-unit purchase, funded by a federally chartered bank.
Which of the following violates Regulation B?
The lender requires the applicant to complete the URLA before accepting an application for credit secured by a dwelling.
The lender requires the applicant to provide financial data and documents before accepting an application for credit secured by a dwelling.
The lender declines a loan application without checking the applicant's credit report.
The lender refuses to provide a copy of the appraisal because the applicant did not pay the appraisal fee, and the loan failed to close.
---
Fire Season!
Will climate change alter mortgage financing in the coming years?
You can count on it.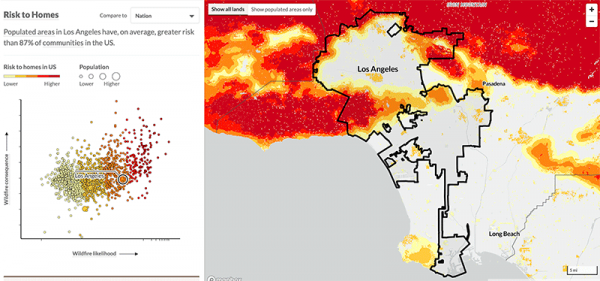 As the housing stock improves, buyers can afford to be pickier
Don't be surprised if loan level pricing adjustments for environmental risks become the norm. In the near future, risk experts working on behalf of various stakeholders will likely provide quantitative climate risk assessments by locale. The insurance industry has reams of data and valuable models on the risks of climate change. As water shortages, wildfire dangers, and other environmental risks accelerate, environmental risk pricing adjustments could become normative for lenders.
Tools you can use
Many tools are available to understand the impacts of climate change on homeownership. Better to comprehend the growing risks of fire and flood damage sooner rather than later.
Check out these fascinating and helpful risk tools:
From USDA – Fire
https://wildfirerisk.org
From FEMA – Floods
https://hazards.fema.gov/nri/
From NOAA – Sea Level Rise Simulator
https://coast.noaa.gov/slr/
Climate Check – Comprehensive climate risk assessment
https://climatecheck.com
Risk Factor
https://riskfactor.com/?utm_source=floodfactor
---
IT'S SUMMERTIME. CAN YOU AFFORD TO STOP LEARNING?
Time to up your game with the Tip of the Week
Leverage Resources
Ready-made social media posts and homeownership counseling from FNMA – Available in many languages.
Don't wait for referral partners to hand you a deal. Instead, go out there and get it! Promote entry-level homeownership opportunities in your community.
https://fanniemaecourses.s3.amazonaws.com/HomeView+Toolkit+for+Lenders/story.html
---
2022 CE – Sneak Preview
2022 CE has begun!
LoanOfficerSchool.com is excited to provide a sneak peek into our 2022 CE offering. The LOSJ series on subprime financing and servicing underserved markets borrows heavily from the 2022 CE 2 Hour nontraditional mortgage product market segment.
We will cover key knowledge points necessary to implement a subprime program from soup to nuts. In addition, the course covers subprime underwriting requirements, how to prove that the subprime loan is in the consumer's best interest, best efforts requirements, steering safe harbor, residual income calculation, recognizing loan risk, and the competencies necessary to shop your loan and get your customer the best price.
Dodd-Frank and the implementation of Regulation Z have had some negative and unintended consequences for American consumers. Coupled with the Fed's monetary policies, runaway housing costs, and the management of the GSEs, we have an ugly housing storm brewing. As a result, the growing subprime industry may be well-situated to address the needs of many consumers falling into the remnants of the 2008 housing cracks.