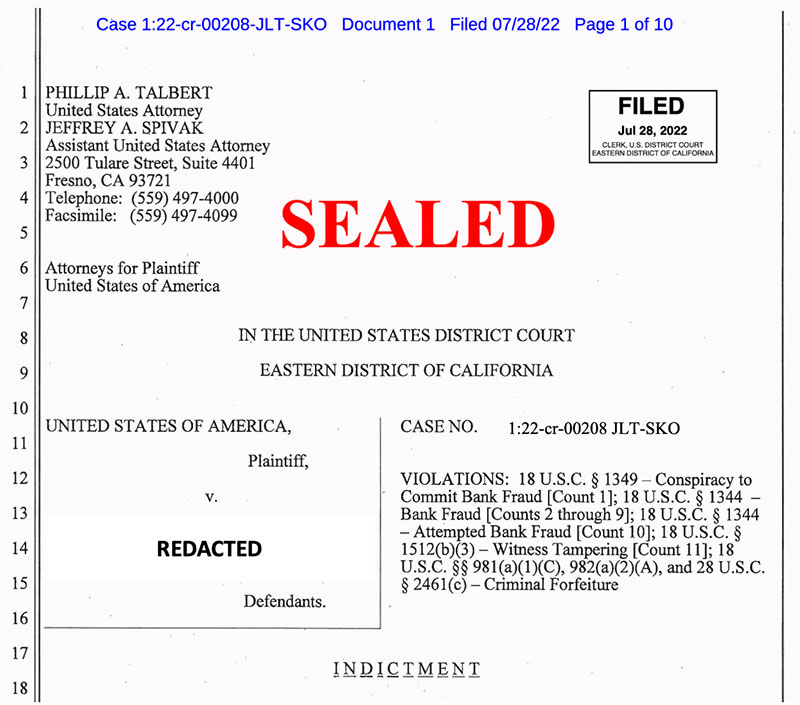 Why Haven't Loan Officers Been Told These Facts?
SEVERE CONSEQUENCES FOR MORTGAGE FRAUD
FRESNO, Calif. — A federal grand jury returned an indictment against REDACTED, charging them with bank fraud and conspiracy to commit bank fraud, U.S. Attorney Phillip A. Talbert announced.
REDACTED was also charged with witness tampering. He is alleged to have attempted to persuade an individual to make false statements to law enforcement officers regarding a mortgage loan under investigation.
According to court documents, REDACTED and REDACTED, who were both real estate agents, worked with REDACTED, a mortgage loan officer, to obtain fraudulent mortgage loans for properties based in Stanislaus County, San Joaquin County, Santa Clara County, and elsewhere. The three utilized false documents, fictional companies, and fictional individuals to obtain mortgage loans for borrowers who were not qualified to receive loans. In total, the defendants caused lenders to issue at least 30 loans based on false information with a total principal loan balance exceeding $10 million.
This case is the product of an investigation by the Federal Housing Finance Agency – Office of Inspector General (FHFA-OIG), the U.S. Department of Housing and Urban Development – Office of Inspector General (HUD-OIG), and the U.S. Postal Inspection Service (USPIS). Assistant U.S. Attorney Jeffrey A. Spivak is prosecuting the case.
"The FHFA-OIG is committed to holding accountable those who waste, steal, or abuse the resources of the Government-Sponsored Enterprises regulated by FHFA, which the defendants have been charged with defrauding," said Jay Johnson, Special Agent in Charge, FHFA-OIG, Western Regional Office. "We are proud to have worked with the U.S. Attorney's Office and our law enforcement partners on this case and to demonstrate, once again, that FHFA-OIG will investigate and hold accountable those who seek to victimize the Government-Sponsored Enterprises supervised and regulated by FHFA."
"This case demonstrates HUD OIG's commitment to pursuing and bringing to justice those who put Federal programs, such as the FHA Mortgage Insurance Fund at risk for their own enrichment," said Special Agent in Charge Mark T. Kaminsky with HUD OIG Office of Investigation. "HUD OIG remains committed to working with our law enforcement partners and the US Attorney's Office, Eastern District of California to investigate and hold accountable those who perpetrate mortgage fraud in central California."
If convicted, the defendants face a maximum statutory penalty of 30 years in prison and a $1 million fine for bank fraud and conspiracy to commit bank fraud. If convicted, REDACTED faces a maximum statutory penalty of 20 years in prison and a $250,000 fine for witness tampering. Any sentence, however, would be determined at the discretion of the court after consideration of any applicable statutory factors and the Federal Sentencing Guidelines, which take into account a number of variables.
The charges are only allegations; the defendants are presumed innocent until and unless proven guilty beyond a reasonable doubt.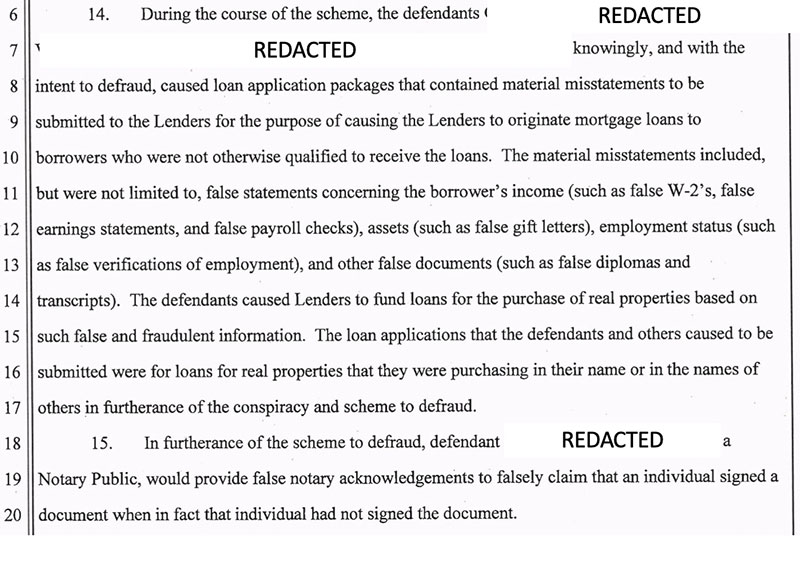 ---
BEHIND THE SCENES
Hurricane Relief
Mortgagors Should Be Reminded to Contact Servicers Pronto
Please feel free to forward this email to any customers in areas impacted by Hurricane IAN
FHLMC reminded homeowners and mortgage servicers of its immediate relief options for those who may be affected by Hurricane Ian. Freddie Mac's short-term forbearance program provides homeowners mortgage relief for up to 12 months without incurring late fees or penalties.
"We are also reminding our Servicers that our immediate mortgage relief options are available to support affected homeowners in the path of Hurricane Ian, the same options we made available last week to those impacted by Hurricane Fiona in Puerto Rico."
Freddie Mac's disaster relief options are available to homeowners whose homes or places of employment are located in "Presidentially-Declared Major Disaster Areas" where federal individual-assistance programs are made available to affected individuals and households. Foreclosure and other legal proceedings are also suspended while homeowners are on a forbearance plan.
Once out of harm's way, homeowners whose homes are impacted should contact their mortgage servicer—the company they send their monthly mortgage payments to— as soon as possible to talk about available mortgage relief options. This also includes homeowners whose places of employment have been impacted resulting in a financial hardship that prevents them from being able to make their monthly payment.
When they are back on their feet, homeowners have several options to make up the missed payments, including additional forbearance, if needed. These options include:
Reinstatement. The option for a lump sum payment is available (but never required) if the homeowner's loan is owned by Freddie Mac. If possible, however, it is the fastest way to get back on track.
Repayment plan. Homeowners pay more each month on top of their existing mortgage payment to make up the missed payments.
Payment Deferral. This option is available if homeowners can resume making their regular monthly payment. With payment deferral, homeowners become immediately current on their mortgage and missed payments are added to the end of the mortgage term without interest or penalties.
Loan modification. If a homeowner is facing a long-term financial hardship but can make a reduced mortgage payment, a modification may be the best option.
Freddie Mac also reminds servicers that its disaster relief options are available to affected homeowners outside the declared disaster areas if their home incurs a disaster-related insured loss that impacts their ability to make their mortgage payment.
Affected homeowners currently on a COVID-19-related forbearance or other relief plan, including from a previous natural disaster, should contact their servicer to discuss options.
More information is available on My Home by Freddie Mac where owners can read about the steps they can take to help recover from a natural disaster, including frequently asked questions related to disaster and mortgage relief.
Similar Guidance from FNMA
Homeowners and renters can call 877-542-9723 to access Fannie Mae's Disaster Response Network™* free of charge or visit KnowYourOptions.com for more information.
Homeowners may request mortgage assistance by contacting their mortgage servicer (the company listed on their mortgage statement) following a disaster.
Mortgage servicers are authorized to offer a forbearance plan for up to 90 days – even without establishing contact with the homeowner – if the servicer believes the home was affected by the disaster.
Homeowners affected by a disaster are often eligible to reduce or suspend their mortgage payments for up to 12 months. During this temporary reduction or pause in payments, homeowners will not incur late fees and foreclosure and other legal proceedings are suspended.
Following a forbearance plan, there are a number of options available to potentially help homeowners catch up on missed payments, including Disaster Payment Deferral.
From HUD, effective immediately
Providing a 90-day moratorium on foreclosures of mortgages insured by the Federal Housing Administration (FHA) as well as foreclosures of mortgages to Native American borrowers guaranteed under the Section 184 Indian Home Loan Guarantee program.
There is also a 90-day extension granted automatically for Home Equity Conversion Mortgages. The moratorium and extension are effective as of the President's disaster declaration date.
VA GUIDANCE ON NATURAL DISASTERS
INFORMATION FOR VETERAN BORROWERS
If you have a VA loan and your home was affected by a natural disaster, we encourage you to take the steps listed below to ensure you receive the assistance you need.
Contact Your Mortgage Company. You are responsible for making regular monthly loan payments, even if your home is not habitable, so contact your lender as soon as possible regarding your loss. If you are unable to make payments on time, we encourage you to discuss forbearance or a loan modification. Also have your lender explain procedures for insurance loss checks, repairs to your property, payments to contractors, etc.
You may also contact VA at 877‐827‐3702 to speak with a Loan Specialist about your options.
USDA and all others – Contact the loan servicer
Resources from the Federal Government
https://www.usa.gov/hurricane-ian
https://www.fema.gov/disaster/hurricane-ian
---
Tip of the Week – What Are They Doing Right?
Top 50 VA Lenders for FY 2022 Q3 (April 1 – June 30)
Sometimes it pays to reinvent the wheel. The other 80% of the time, not as much.
Take a look at the competition. What are lenders getting right?
In a tough market, impressive Veterans United leads the pack in volume. And it's not even close.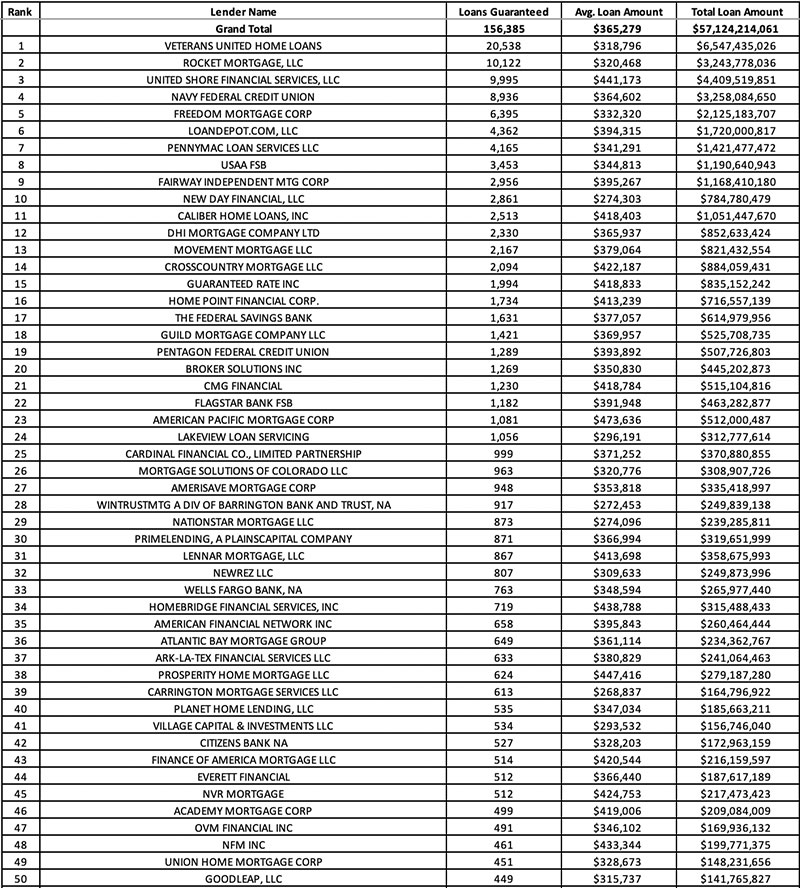 ---
2022 CE – Sneak Preview
Time is running out. Sign up for the best CE in the industry.
LoanOfficerSchool.com is excited to provide a sneak peek into our 2022 CE offering. First, review the past LOSJ issues on subprime financing (see hyperlink below) to get a feel for our 2022 Nontraditional Mortgage Product segment. The LOSJ subprime series borrows heavily from the 2022 CE 2-Hour nontraditional mortgage product market segment.
Then sign up for 2022 CE! We will cover key knowledge points to implement a subprime program, from soup to nuts. In addition, the course covers subprime underwriting requirements. What competencies are necessary to shop your loan and get your customer the best price? And how to prove that the subprime loan is in the consumer's best interest.
Best efforts requirements
Steering safe harbor
Residual income calculation
Recognizing loan risk
Dodd-Frank and the implementation of Regulation Z have had some negative and unintended consequences for American consumers. Coupled with the Fed's monetary policies, runaway housing costs, and the management of the GSEs, we have an ugly housing storm brewing. As a result, the growing subprime industry may be well-situated to address the needs of many consumers falling into the remnants of the 2008 housing cracks.