Why Haven't Loan Officers Been Told These Facts?
FAQ: As an MLO responsible for the Loan Estimate preparation, I want to learn if mortgage insurance estimates have a specific accuracy requirement so I can adequately revise the Loan Estimate if needed.
Answer: Upfront MI, including government loans and single premium PMI, are zero-tolerance items. Regulation Z provides no numeric accuracy requirements for monthly escrowed MI. However, Regulation Z states that the early estimate is only in good faith if it is consistent with the best information reasonably available to the creditor when disclosed. Therefore, an egregious (not the best information reasonably available) misrepresentation of the escrowed monthly MI premium may violate the TILA and possibly other statutory requirements.
Regulation Z section 12 CFR 1026.37 describes the Loan Estimate content requirements for transactions subject to the TRID rules. § 1026.37(f)(2) content, "Services you cannot shop for," include upfront mortgage insurance premiums.
§ 1026.37(f)(2) Services you cannot shop for. "Under the subheading "Services You Cannot Shop For," an itemization of each amount, and a subtotal of all such amounts, the consumer will pay for settlement services for which the consumer cannot shop in accordance with § 1026.19(e) and that are provided by persons other than the creditor or mortgage broker."
Comment 37(f)(2)-2. Examples of charges. Examples of the services and amounts to be disclosed pursuant to § 1026.37(f)(2) might include an appraisal fee, appraisal management company fee, credit report fee, flood determination fee, government funding fee, homeowner's association certification fee, lender's attorney fee, tax status research fee, third-party subordination fee, title – closing protection letter fee, title – lender's title insurance policy, and an upfront mortgage insurance fee . . . Government funding fees include a United States Department of Veterans Affairs or United States Department of Agriculture guarantee fee, or any other fee paid to a government entity as part of a governmental loan program, that is paid at consummation."
Section § 1026.19(e)(3) establishes the benchmarks for the required "Good faith determination for estimates of closing costs" or disclosure accuracy requirements. Under section § 1026.19(e)(3)(i) general rule, "an estimated closing cost disclosed is in good faith if the charge paid by or imposed on the consumer does not exceed the amount originally disclosed." This is zero tolerance for inaccuracy."
This zero tolerance for inaccuracy includes fees paid to an unaffiliated third party if the creditor did not permit the consumer to shop for a third-party service provider. Consequently, upfront MI premiums are zero-tolerance items, provided the premium is not a prepayment of future premiums over a specific future period or a payment into an escrow account.
Yet lenders do not allow consumers to shop for borrower-paid monthly MI premiums either. Correct. However, borrower-paid monthly MI premiums are paid via escrow and, in the LE, are itemized as escrow or prepaid items. As such, there are different accuracy requirements for escrowed and prepaid items. Examples of periodic charges that are disclosed under LE Other Costs, Subheading F, Prepaids are mortgage insurance premiums.
Under LE Other Costs, Subheading G, § 1026.37(g)(3) Initial escrow payment at closing. Under the subheading "Initial Escrow Payment at Closing, "an itemization of the amounts that the consumer will be expected to place into a reserve or escrow account at consummation to be applied to recurring periodic charges, and the subtotal of all such amounts . . . Comment 37(g)(3)-3. Terminology. As used in § 1026.37(g)(3), the term "mortgage insurance" has the same meaning as "mortgage insurance or any functional equivalent" in § 1026.37(c).
Accuracy requirements for escrowed and prepaid items, including monthly MI premiums, are found in section § 1026.19(e)(3)(iii), which states that "an estimate of any of the charges specified in this paragraph is in good faith if it is consistent with the best information reasonably available to the creditor at the time it is disclosed, regardless of whether the amount paid by the consumer exceeds the amount disclosed." In other words, Regulation Z provides no numeric accuracy requirements for escrowed MI. Yet what Regulation Z implies is that something as easy to accurately estimate as MI costs – had better be right.
If the Loan Estimate inaccurately estimates the MI under prepaid or escrowed items, one must wonder why? Absent some post-disclosure premium or coverage changes, the MI premium should be accurate in the initial LE.
A failure to accurately estimate the prepaid or escrowed MI may violate the RESPA, TILA, MAP Act, and UDAAP provisions of the Consumer Credit Protection Act.
---
Do you have a great value proposition you'd like to get in front of thousands of loan officers? Are you looking for talent?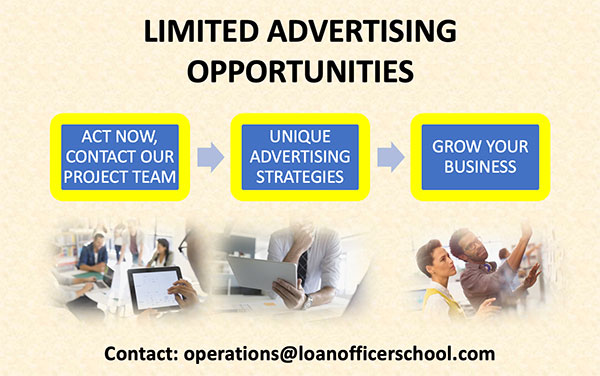 ---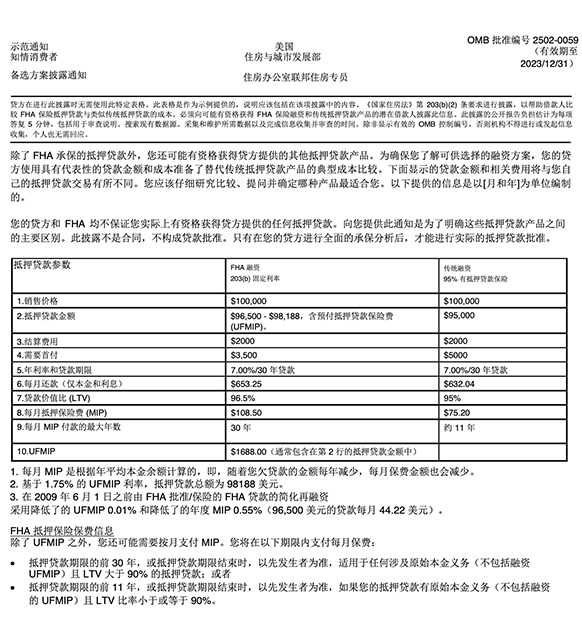 BEHIND THE SCENES – HUD JOINS THE LEP PARTY
Federal Housing Administration Launches New Resources to Remove Language Barriers for Borrowers
The limited English proficiency movement is picking up steam. Stakeholders should not use translated documents for legal agreement or disclosure. Generally, the translated documents should be delivered along with the English versions. Pay attention to the stated 1103 Supplemental Consumer Information Form, Language Preferences, or orally expressed language preference.
From HUD Announcement, June 13, 2023
Multi-language translations of single family mortgage documents offer new resources for lenders and servicers when working with borrowers with limited English proficiency.
WASHINGTON – Today, the Federal Housing Administration (FHA) is making available in Chinese, Korean, Spanish, Tagalog, and Vietnamese more than 30 single family mortgage documents and related resources used in the origination of FHA-insured mortgages. The educational resources are accessible from FHA's new language access web page and are intended to assist lenders, servicers, housing counselors, and other FHA program participants in explaining information related to FHA-insured mortgages to those with limited English proficiency prior to borrowers executing legal documents in English, as required by law. This first set of translations is part of ongoing efforts by FHA to remove language access barriers for consumers whose preferred language may not be English, and a part of HUD Secretary Marcia L. Fudge's commitment to making equity a leading compass within the Biden-Harris Administration.
"Understanding the products, processes, and documents associated with a mortgage transaction is vital to a borrower's ability to become a successful homeowner," said Assistant Secretary for Housing and Federal Housing Commissioner Julia Gordon. "These new resources will help prospective homebuyers better understand their transaction and make more informed decisions before they are at the closing table."
The translated documents include the HUD Addendum to the Uniform Residential Loan Application (HUD 92900-A) required for all FHA-insured single family mortgages; model documents, including mortgage notes and riders used in FHA forward and Home Equity Conversion Mortgage (HECM) transactions; and required borrower disclosures. In addition, FHA now has newly translated versions of some of its most widely used single family homebuyer education materials and information resources, including its Save Your Home, Tips to Avoid Foreclosure brochure, its disaster relief and recovery options information card, and FHA "myth busters" question and answer cards.
FHA intends to make additional resources available in the future.
HUD Translated Mortgage Doc Page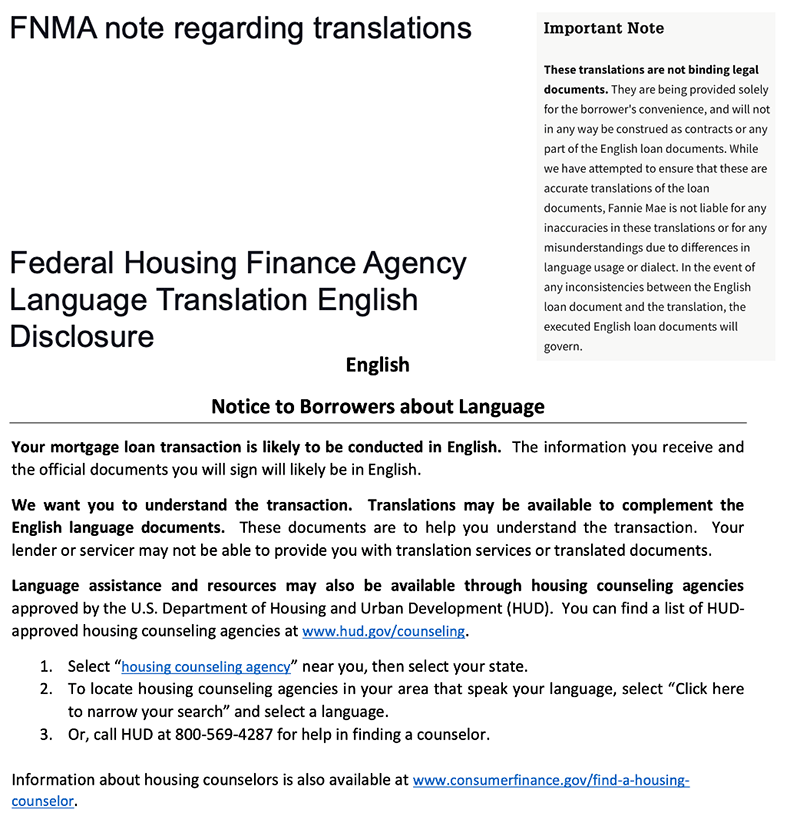 ---
Tip of the Week – Applicant Product Buy-In, Your Ticket to Rapport
Using precise quantified values (dollars and cents) to articulate the differences in loan comparisons is essential. The degree of buy-in of the applicant is highly dependent on their comprehension of the differences between the presented options and appreciation of the selected option's benefits.
A good practice is to let the presentation and the numbers sway the consumer. The applicant should clearly understand WHY they selected one loan over another. If the customer fails to put on their thinking cap, this comprehension does not occur. There is little buy-in to you or your solutions when there is no engagement with the mortgage presentation.
When the applicant asks, "What should I do?" Their question may mean, "I do not understand what you are telling me, but I do not want to waste your time or appear stupid." If the applicant said that, think of how you would respond compared to "What should I do?"
Refrain from telling people what to do. Instead, learn to speak your customer's language. MLOs are dealing with fifth-grade mathematics. Most applicants can understand the numbers.
This simplification does not mean some things are difficult or impossible to quantify. Or that, in some cases, two or more presented options have such similar net benefits that it's a toss-up. But try to distinguish the two.
Help the customer understand why the selected loan is in their interest and, in doing so, reap the fruit of good rapport. However, numbers alone do not get the job done. But it is a good start. The prospect needs to feel safe in their decision. Confusion and security do not mix well.